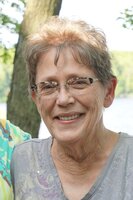 Rosalee Mae "Rosie" Speece
Rosalee "Rosie" Mae Speece, age 73, passed away peacefully at Essentia Health in Duluth, Minnesota on October 15, 2021 after a battle with lung cancer. Rosie was born January 15, 1948 in Albert Lee, Minnesota, and adopted by her parents Carles and Marion Bertelsen as an infant through Lutheran Social Services. She graduated from Floodwood High School in 1966. Shortly after, she married Phillip Wayne Speece, her high school sweetheart, in Floodwood on September 9, 1966. After living in Keewatin for a short time, Phil and Rosie moved to Floodwood in 1967.

In 1970, they welcomed their first daughter, Corinne "Cory," into their home, and in 1973, their son, Anthony "Tony," was born. Her children remember her as a loving wife and mother who was hardworking, selfless, and would do anything for her family. Rosie was overjoyed at becoming a grandmother, and she was one of her grandchildren's greatest supporters, showing up for nearly every band concert, play performance, and home athletic event. Many knew Rosie from her years working in the cafeteria at the Floodwood School and as a manager at the Little Store. She enjoyed sewing, crocheting, knitting, cross stitching, crossword puzzles, baking, cooking, and a good game of Bingo, Cribbage, or Canasta. Rosie loved to laugh, spend time with her family, and was typically whistling or humming as she went about her day.

Rosie is survived by her children, Corinne (Burt) Suonvieri and Anthony Speece; grandchildren, Cherie Suonvieri, Evan Suonvieri, Levi Suonvieri, Devan Suonvieri, and Savannah Speece; a brother, Lawrence (June) Bertelsen; and several nieces and nephews. She was preceded in death by her parents, Carles and Marion Bertelsen; her husband Phillip Speece; and two infant sons.

The memorial service will be held on Thursday, October 21, 2021 at New Life Community Church in Floodwood, Minnesota. Visitation will begin at 10 a.m., and service will begin at 11 a.m. Lunch to follow.