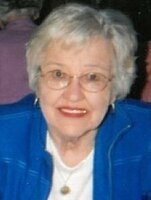 Vera Luella Edmunds
Vera L Edmunds passed away peacefully in St. Luke's Hospice on Saturday afternoon at 100 years of age. Vera was born to Linnea and Oscar Hanson on January 21, 1921 in Havre, Montana. The following year the family relocated to Duluth.
Vera graduated from Duluth Central High School in 1938. Following high school, she worked for Dr. Stearns in his dental office in Hunters Park and attended night school at Duluth Business University.
She married Russ Edmunds in 1941 in a double ceremony with her sister Vi (Smith). Shortly after the wedding, Russ was inducted into the U.S. Air Force. With Russ in the Air Force, Vera became the first woman employed by Picands-Mather Zenith Mine Office in Ely, MN as Secretary to the Superintendent. A year later she joined her husband in Oklahoma City, where Russ was stationed, and she was employed by the Liberty National Bank in the loan department. In subsequent years, Vera was employed at the Probate Court in Duluth, the Department of Agriculture in Minneapolis, the Office of Stabilization in Duluth and in later years, assisted her husband in his real estate business.
Vera attended Fredenberg Chapel for many years, then Lakeview Covenant and currently, The Vineyard. She was a member of the Lester Park Women's Golf Club and won numerous tournaments held in Duluth and the surrounding area.
She was preceded in death by her husband of 52 years, Russ Edmunds, her parents, Linnea and Oscar, her brother, Elvert Hanson of Minneapolis and her sister Vi Smith of Duluth. Her sister Vi, recently passed away at the age of 101 and Vera was determined to match that. She came very close, but fell short. In fact, the day before she passed away, she said that Vi was going to "win." She had a very competitive spirit right until the end. Vera and Vi were "joined at the hip" and the family enjoyed hearing and telling many, many Vera and Vi stories about their numerous adventures.
She is survived by a loving family of two sons, Ronald (Nancy) and Michael (Elizabeth). Four beloved grandchildren, Corey (Anne), Ryan, Melissa (Dan) and Andy (Jebeh), and 9 adored great-grand children, Derek, Megan, Jake, Kylee, Ashley, Liv, Grant, Max and Mateo. She was able to meet and hold her only great, great granddaughter Aspen the day before she died and she had quite an adoring smile on her face.
Per Vera's wishes there will be no formal service held, but a private family service will be held at a later date. If you wish, you can remember her with a donation to Chum, Union Gospel Mission, or The Food Shelf.