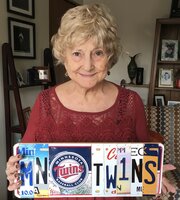 Kathleen K. Bernard
Kathleen Kay Bernard, born October 13, 1942, was called to Heaven on October 1, 2021. Kathy was born in Minneapolis and graduated from St. Louis Park High School. Kathy suffered a great loss when her brother took eternal rest in 1969, she spent her remaining years honoring his memory. Kathy was a fierce momma bear to so many and she loved animals more than life. Kathy lived and breathed for the MN Twins. Kathy spent 20 years as a cardiac manufacturing operator and she also spent several years working in the Spring Lake Park School District. She had an exceptional gift for cooking, gardening, making clothes, scrapbooking, coloring and crochet.

Survived by children Frederick Bernard and Barbara Kennedy, great-niece Lauren Heinze, and fur-baby Muffy.

Preceded in death by brother Frederick 'Butch" Giefer, parents Frederick and Althea Giefer.

In lieu of flowers, please consider donations to your local women's shelter or animal rescue group, in Kathy's honor.

Service of Remembrance - October 13, 2021, 2:00pm, Lakewood Cemetery Memorial Chapel, 3600 Hennepin Ave S, Mpls, 55408

*** As a tribute to Kathy on her birthday, please wear something teal or purple in her honor! ***