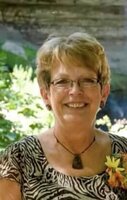 Elizabeth Jean "Betty" Rogers
On Thursday, September 30, 2021, Elizabeth "Betty" Rogers, of Shoreview, MN, surrounded by her family, passed away at the age of 73.
Betty was born on February 11, 1948, in Minneapolis, MN to Philip and Marie (Westrup) Wagner. After graduating in 1966 from John Marshall High School, she married Jerome "Jerry" Rogers on November 30, 1968. Together they had 5 children, Christopher, Erin, Bernadette, Jessica, and Phillip James. While raising their family, they lived in Winona, Rushford, Cottage Grove and Detroit Lakes, MN. She moved to Shoreview, MN in 2007. Betty worked many years as an Office Manager in the Civil Engineering field until her retirement in 2012.
Betty had a passion and talent for finding and creating beauty in all things. She was an accomplished quilter and was able to combine fabrics and colors of all kinds to construct beautiful creations. Even her sewing room, was a sight to be seen, with a kaleidoscope of colors, textures, and patterns, all earmarked with a project in mind. She also enjoyed gardening, cooking for family, bold jewelry, and painted nails.
Betty was preceded in death by a sister (Bernice), a daughter (Bernadette), her husband (Jerome), and both her parents (Philip and Marie).
She is survived by her three sons – Christopher (Angela Caldwell) Rogers of Shoreview, MN; Erin (Monica) Rogers of Minneapolis, MN; Phillip (Leslie) Rogers of Shakopee, MN, and a daughter – Jessica (Michael) Johnshoy of Chaska, MN; seven grandchildren – Thalia Hill, Annika Bennett, Avery Bennett, Campbell Rogers, Lilah Johnshoy, Leif Johnshoy and Marie Rogers. She is also survived by her 9 siblings - Phyllis (Dick) Hughes, Mary (Loren) Cybyske, Nancy (Rollie) Martin, Kathy (Steve Struchen) Amert; Margaret (Paul) Sticka, John Wagner, Joe (Amy) Wagner; Mike (Marsha) Wagner and Peter (Jonmaire) Wagner and many nieces and nephews.
A visitation will be held on Thursday, October 7th, 2021, 5pm-7pm at the Cremation Society of Minnesota, Edina, MN, and a funeral Mass will be held at St Lawrence Catholic Church on 5th Street SE, Minneapolis, MN at 10:00 am on Friday, October 8th, 2021. An immediate family burial ceremony will occur in Detroit Lakes, MN at a later date.