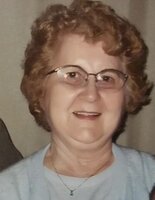 Bethleen Margrette Connor
Bethleen Margrette (Frohock) Connor age 92 of Bloomington, MN passed away on September 10, 2021. She was born November 26, 1928 in LaCrosse, WI to parents George and Beda Frohock. She grew up in LaCrosse and graduated from Logan High School. Bethleen married Lloyd Connor on April 28, 1951. They moved to Bloomington, MN and raised three children. Beth was a wonderful wife, mother, grandmother, neighbor, and friend. She had many hobbies and interests. She loved cooking and baking and would share her treats with many. She liked to sew, garden, bowl, knit, crochet, embroider, quilt, sing, and dance. In the last few years she would sing a few songs each week with the country band at the Creekside Senior Center. Beth was a big Twins baseball fan, a Vikings football fan, and enjoyed horse racing. She loved to have fun but she was also a very hard worker. She worked at Lifetouch (National School Studios) for many years and volunteered at Holy Emmanuel Lutheran Church. Beth was a kind and generous woman who was dearly loved by many people and will be greatly missed. Preceded in death by her parents, husband Lloyd, sisters Ilene and Elaine, brother George, and great granddaughter Harlow Mae. Survived by sons Greg (Rita) Connor and Bill (Donna) Connor, daughter Kathy (Greg) Bores, 6 grandchildren, Jesse, Kelsey (Cassidy), Kyle, Keara, Connor, and Erin, and many other relatives and friends.
A special thanks to the staff at Presbyterian Home of Bloomington and Optage Hospice who cared for her and loved her.
The Celebration of Life will be held at 11AM, Friday, Sept 17 at Holy Emmanuel Lutheran Church, 201 E 104th St, Bloomington, MN 55420, (952) 888-2345, Visitation 1 hour prior. Reception to follow service. Interment at Ft. Snelling National Cemetery at a later date.