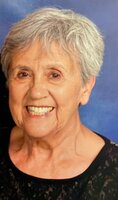 Janice Ann Peterson
In celebration of a beautiful life.
Janice "Jan" Ann Peterson born November 19,1940 in Cumberland, Wisconsin. The daughter of Felix and Mary Zappa, and youngest of 10 children. Married for 58 years to her high school sweetheart, Jim Peterson. They raised three children, Randy, Mari, Rick, and 11 grandchildren who were all her greatest joy. Jan had a deep love for her family, friends and a gift of kindness and connecting with everyone she met. Jan was called home on August 14, 2021 at the age of 80 with her family by her side.
All memorial contributions received will be donated to American Parkinson Disease Association.
Memorial service at Church of St. Timothy on Wednesday, August 25 th, 2021 at 707 89 th Ave. NE, Blaine, MN.
Visitation: 10:00 am Service: 11:00 am
Burial to follow in Cumberland, WI at Church of St. Anthony on Friday, August 27 th, 2021 at 11:00 a.m.
Left to cherish Jan in memories are husband Jim Peterson, children; Randy (Tami), Mari (Paul) Anderson, Rick (Karen), grandchildren; Alicia, Brielle, Carter, Brady, McKenzie, Britton, Halle, Julia, Sophia, Maria, and Victoria, siblings; Donny (Judy) Zappa, Tony (Joy) Ranallo, sister Carol Poukey. Preceded in death by her parents, Felix and Mary Zappa, and brothers Ben (Evelyn) Zappa, Herman (Betty) Zappa, and sisters Frannie (Tom) Lombard, Angie (Jesse) Cain, Rose (Norm) Lindfors, Mickey (Walt) Johannsen.