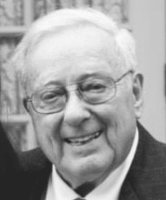 John Walter Ferman
Ferman, John (Jack) W.
died July 13, 2021, in his home in Minneapolis. Jack was born in Minneapolis November 1, 1928, to Walter Ferman and Mayme Radecop Ferman. He graduated from Central High School in 1947 and the University of Minnesota in 1951, where he studied metallurgical engineering. In 1952, he joined the Navy and served for four years. He then returned to the U where he took his MS in Physical Metallurgy and his PHD in Metallurgy. He took over a research project at General Motors in the Physics Department and later worked at the Westinghouse Bettis Atomic Power Laboratories. Returning to Minnesota, Jack worked at the Minnesota Pollution Control Agency. He loved his family, gardening, the North Shore and his dogs. He is survived by his wife, Nancy Benson; daughters Amy, Beth (Dennis) Kolodjski and Micaela; grandchildren Delanie (Kevin) O'Keefe, Cameron and Maya; and great-granddaughter Rylee.
A reception to honor Jack will be held at the Cremation Society of Minnesota, 4343 Nicollet Avenue, Minneapolis, from 11:00 to 2:00 on Sunday, August 1. In lieu of flowers, memorials may be directed to The Southern Poverty Law Center.