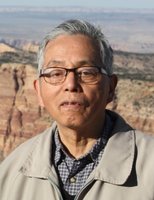 Zhongqiang Lin
Zhongqiang Lin
Aug 3, 1935 – June 18, 2021
Zhongqiang was born on in Minhou, Fujian Province, China to Dequan Lin and Meiying Chen. As a child, he was talented in math, science and calligraphy. His intelligence and love for learning made him an outstanding engineer. He was a chief engineer overseeing over 200 employees in a large organization and was sent to Europe and US after China opened its door to the world in late 1980s. He was interviewed by the local news channel in Norway for his work during his many months of stay in Europe. The software program he wrote as an aide for himself was sought after by a number of colleagues even years after retirement. In addition to Zhongqiang's professional career, his most successful career is in being a devoted father, husband, uncle and grandfather. His love for his family is characterized by his remarkable patience, kindness, understanding and a sense of humor. His culinary skills, carpentry work and tailoring skills are just some of the things his daughters adored him for, not to mention other hobbies like developing photo negatives, singing Peking Opera, playing bridge and Chinese chess.
It is his quiet strength of contentment that accompanied him through 13 long years of battle against the debilitating Parkinson's disease. In his later stage of Parkinson's disease, Zhongqiang accepted Jesus as his personal Lord and Savior. His pain and struggles are now forever gone as he is safely in the arms of Jesus in heaven.
Zhongqiang is survived by his brother Chaoqiang Lin; sister Xinqiang Lin; 2 daughters and their spouses Han Lange (Chris), Nan Schutz (Jim); and 4 grandchildren. He was preceded in death by his wife Weiqi He.
林仲强出生于福建闽侯。父亲林德全, 母亲陈梅英。
小时候林仲强就有数理和书写的天赋。 长大后他成为一名杰出的工程师。作为带领200多人的主任工程师,他被派到欧洲和美国出差工作,并被挪威电视台采访。他写的软件在他退休后还常常被普遍应用。 然而,林仲强最成功的事业是做了一名充满爱心的父亲,丈夫,舅舅(叔叔),和外公。他的耐心,善良,理解 和幽默是他爱的表现。女儿们崇拜他的烹饪,木工和裁缝, 以及他的很多爱好,冲洗胶片, 下棋,打桥牌,唱京剧等等。
他知足常乐的本性在13年帕金森的历程中完全显明。在帕金森后期,林仲强接受主耶稣作为他的救主,便因此而得永生。林仲强现在在天堂再无痛苦。
林仲强在世的亲人有哥哥林超强,妹妹林信强,女儿林菡(Chris),林柟(Jim),以及四个外孙,外孙女。