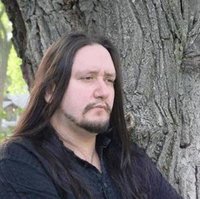 Christopher Sherman Pasquarette
Pasquarette, Christopher S., also known as Christoforo (Foro) Pallavincino, of Columbia Heights, MN died on 04/11/2021 at the age of 53 due to complications from terminal Liver Cancer.
He is survived by his brother, Michael Pasquarette of Prior Lake, MN, and his life partners Sabrina Payne of Columbia Heights, MN and Tina Smeby of Spring Valley, WI. He is preceded in death by his parents Ralph Pasquarette and Barbara (Stasel) Pasquarette, sister Carol Jean Ellwein, and brother Rocco Eugene Pasquarette.
Christoforo was born November 6, 1967 in Shakopee MN to Ralph and Barbara (Stasel) Pasquarette, as the youngest of four children. After graduating high school in 1986, he attended the University of Minnesota, gaining his Bachelor's Degree in English. In 1992, he was accepted into the JETAA Program and lived in Hino-cho, in Shiga Prefecture, Japan, teaching English in the local Junior and Senior High Schools for three years.
After his return from Japan in 1995, Christoforo returned to the University of Minnesota for an additional year to gain his Bachelor's Degree in Japanese Language and Culture. He worked a variety of jobs before joining Merrill Corporation, for whom he worked in London, UK in 1998 and 1999 as a Client Liaison for financial printing, often being the translator between the New York and Tokyo offices.
After completing an E-Commerce A.A. degree with honors from Minnesota School of Business, in 2002, he joined Digital River in Minnetonka, first as a Customer Service Representative, then as a Website Developer, specializing in Asian online shopping experiences for companies like Square Enix, Symantec, Trend Micro, and many others. As a Website Developer and trainer, Christoforo traveled to Japan, Taiwan, and India.
In 2014, he joined Hennepin County as an IT Developer, specializing in webforms and digital experiences to benefit residents of the county.
Christoforo was active in the Society for Creative Anachronism (SCA), participating in martial arts tournaments and living-history events around the world, and enjoyed studying medieval Japanese and Italian history. In 1994, he won the baronial tournament in Tokyo, gaining the title Baron of the Far West. In 2018, he was elevated to the Order of the Laurel in the SCA for his mastery of European and Japanese calligraphy.
He also was an active Role Playing Game fan, and wrote "The Pacific Rim Sourcebook" for R. Talsorian Games in 2013. Christoforo was also active with CONvergence, a local Science Fiction/Fantasy convention, and was the Head of Publications and Head of Creative Services for several years.
Christoforo's wit, gregariousness, and humor will be missed greatly by his family, friends, and the communities he belonged to. Donations in his name to the ACLU and ASPCA are appreciated.