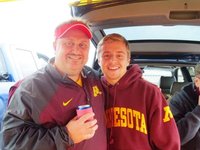 Michael Ray Landas
MICHAEL RAY LANDAS (December 6, 1966 – April 2, 2021)
On April 2, 2021, Mike Landas passed away after a courageous battle with Covid pneumonia. He was a loving son, brother, husband, father and a friend to many. Mike leaves behind, a son, Tony, and two stepsons, Mike McKenzie and Matt McKenzie (Erin), as well as, the love of his life and companion for over 20 years, Dawn (Dutmer) McKenzie.
Mike was born in Oelwein, Iowa on December 6, 1966, to Junior Landas and Mary (Luckeroth) Landas. He was preceded in death by his father, Junior. Mike is survived by his mother and the following five siblings: Linda Gretchen (David), Gary Landas (Cathy), Randy Landas (Mary Ekler), Brenda Tiffany (Doug) and Gina Kulbeth (David) as well as many wonderful nieces, nephews, and cousins. In addition, he will be sorely missed by Dawn's family which includes: mother, Dolly Dutmer, Diane Dutmer-Pfeffer, Joan Burger, Jane (Don) Dzuck, Paula (Paul) Nephew and Jenny Skull (Chris), as well as, the many nieces, nephews and many friends from the Victory Memorial neighborhood that he lived in for over 16 years.
Mike was the definition of the life of the party. He was a fun-loving man who brightened every room and every life he entered. Mike always made sure to surround himself, and the ones he loved, with great food and beverages. He enjoyed smoking meats on his New Braunsfel smoker, played softball for over 20 years with his friends, The Lounge Lizards, and looked forward to an annual fishing trip with his buddies to Algoma every late Spring. He also enjoyed golf, but most of all, he loved spending time with his son, Tony, on Victory Memorial Parkway, throwing a ball or frisbee – Mike coached numerous sports teams during his son's younger years. Mike was a Gopher football fan through and through and looked forward to the new football season of tailgating with his friends. He loved music venues, dancing and traveling, especially to Mexico, every February, and prides himself on his ability to sniff out the best deal so everyone could save a few bucks. Most importantly, Mike was a very active member of his community, which included his 20+ years of dedication as a firefighter with Robbinsdale Fire Department.
A huge thank you to all the doctors, nurses and frontline workers at North Memorial Hospital and HCMC who passionately cared for Mike during his six-week illness. A Celebration of Life will be held for Mike in late summer or early fall once family and friends have been vaccinated.