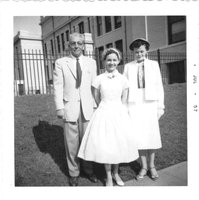 Gail Madeline Forcier
Gail Madeline Forcier, born on February 2, 1943, passed away suddenly on March 27, 2021 in Minneapolis, MN. She had been a resident of the Signe Burckhardt Manor in Minneapolis since April 2020, before that she had been a long-time resident of Andrew House, Minneapolis.
Gail was a gentle and quiet person and somewhat shy, but she was also curious about everything in her world and enjoyed the challenge of learning new things. During the past year, she kept fit by walking up and down the 7 flights of stairs to her apartment to pick up her mail most days and walking around the block several times in downtown Minneapolis. She loved music, art, and reading, going for long walks, getting together with friends and family (Pre- Covid!), and taking part in a wide variety of activities -- anything from bingo to trying to learn how to use the computer a few years ago, which she admitted later, was a bit overwhelming at her age. In her younger years she excelled at playing the piano and could play almost any piece by sight.
She was preceded in death by her parents, Edmond ("Duke") and Margaret ("Sis" Kennedy) Forcier, and her two brothers, Clark and Dennis Forcier. She is survived by a number of nieces, nephews, cousins of various degrees, and further extended family members. She will be dearly missed by her family, friends, and those who cared for her.
A mass intention at the Basilica of St. Mary, Minneapolis, and a private urnterment at St. Mary's Cemetery, Minneapolis, are planned. Memorials should be made to your favorite charity; Gail's favorites were Operation Smile and Mercy Ships.