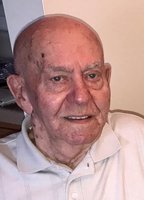 John William Linker
On March 16, 2021, J. William (Bill) Linker passed away at the age of 90. He was under the loving care of Ebenezer Arbor Lane Care facility and Fairview Home Care and Hospice.
Bill was born on April 7, 1930 in Ft. Wayne, Indiana to Carl and Wilma (Crawford) Linker. He was the oldest of four children and had three sisters, Margaret, Carla, and Diane. He graduated from Central High School in 1948 and spent one year at Purdue University before leaving to devote his entire life to the building industry. This enthusiasm for construction included starting his own companies, J. William Linker & Sons, Inc. in 1966 and Heat-n-Cool, Inc. in 1984.
On October 8, 1949, Bill married Amy (Mary) Walker. They were together for 72 years and raised nine children: Mark (Vickey), Joel (Mary), Kent (Penny), Curt (Jean), Todd (Barbra), Beth (Warren), Anne (Randy), Susan (Richard), and Eric (Cathie). During his lifetime he lived in several different states that included Indiana, Nebraska, Kentucky, and finally Minnesota.
In his retirement, Bill spent a great deal of time traveling internationally with Mary. Trips included Australia, New Zealand, and the Fiji Islands. He was an incredible innovator and unapologetic perfectionist. He could take anything considered acceptable and turn it into something exceptional. He had a work ethic that was admired by many of his contemporaries and eventually passed on to his children.
Bill was preceded in death by twin daughters, Mary and Margaret, his mother, Wilma, his father, Carl, and his grandson, David. A private memorial will be held. Flowers or donations may be sent to Ebenezer Arbor Lane Care Facility, 13810 Community Dr., Burnsville, MN 55337.