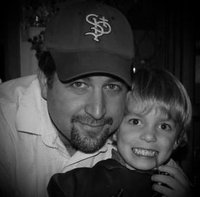 Eric Allen Dean
Eric Allen Dean, of Minneapolis, Minnesota, passed away on February 2, 2021. He was 50 years old. Eric is survived by his beloved son, Charlie, his sister, Amy Addy (Erik), his brother, Aaron Dean (Nicole) and his parents, Mary and John Dean.
Described as an adorable, precocious and hilarious child, Eric was ever protective of his younger sister, Amy, and a sparring partner to his older brother, Aaron. While Eric may have fit the criteria of the typical middle child, he marched to the beat of his own drummer. Eric's Uncle Denny recalls him being a "very accomplished writer." As a member of the Minneapolis Youth Symphony Orchestra, Eric was an award-winning trumpet player who often performed at Orchestra Hall. Along with possessing artistic and musical talent that would follow him into adulthood, Eric was an avid Vikings fan.
Eric graduated from Washburn High School in 1989, where he earned a full scholarship to Lafayette College. Upon returning to Minnesota, Eric settled down close to his family. Eric loved being outdoors, whether it was to hike, camp, fish or mountain bike. He was an avid reader with a particular interest in the history of World War Two. He loved playing cribbage and scrabble and watching movies like the Big Lebowski. Possessed with a quick wit and devilish sense of humor, Eric loved to laugh and to make others laugh.
Family was incredibly important to Eric. He frequently stopped by his parents' home to help his mother in the garden, digging holes for her roses. Eric enjoyed long phone calls with his aunts, uncles and with his father. He loved his mom's spaghetti dinners. At holiday gatherings, Eric could often be found chatting with his cousins. Amy refers to Eric as "a deep thinker" who preferred authentic, one-on-one conversations with others. Among the littles, however, he was Fun Uncle Eric. With that mischievous grin and infectious playful spirit, Eric could be found sitting at the kids' table, spinning hilarious, ridiculous tales, or outside, tossing a niece or nephew in the air. Wherever Eric went, uncontrollable giggling followed. Particularly from his youngest nephew, Gunnar.
Anyone who came into contact with Eric quickly learned of his deep, fierce, unwavering love for his son, Charlie. Eric spoke of Charlie with such pride and adoration. Charlie was the epicenter of Eric's universe. Charlie was Eric's sun, moon, and stars. Eric will live on in the twinkling eyes and gorgeous smile that he and Charlie shared.
Eric was very close with his sister, Amy. Amy describes the years they lived together as some of the happiest of their lives. She characterizes Eric as "sensitive, gentle, nonjudgmental and a good listener." In a world where it is generally hard to be quiet around others, Eric was the type of person you could be silent with. Eric's dear friend, Andrea, echoed the sentiment. "We often took long walks and said few words. Just being in his company was comforting." Andrea goes on to say, "Eric was wicked smart. His eyes sparkled. He smiled with his whole face."
Eric's favorite cousin, Nicole, also looked forward to being in Eric's presence. In her words, "We were kindred spirits. Sensitive and gentle, always a great teaser, he liked me just as I was. I honor Eric. For trying. For making it as long as he did in a sometimes difficult and harsh world. My heart is full of love for a cousin and a friend."
Eric's father, John, says, "I envision Eric being in heaven, smiling down at Charlie's many successes. He will be doing things that he always enjoyed, like playing cards on a stormy night with friends."
In an extroverted society that measures worth in dollars, Eric was ill fitted. But those closest to him knew his worth to be far bigger than any bank account and best measured in hugs and laughs. Eric spoke truth, and his inner circle felt connected to him by scars, pain, awkwardness and failures. This was evidenced by Eric's commitment to recovery and the community during times of sobriety. As one of his friends in recovery describes, "Eric was of service to those suffering. He would answer his phone. He would drive others to meetings. He would look over people's resumes. Eric cared. He helped people. He helped me." We hope Eric knows how much he was loved and how much he will be missed. May Eric be at peace, engulfed in a cloud of serenity, sobriety and joy.
To submit photos or letters to the family, please click the link below. Thanks for considering.