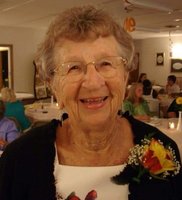 Ethel C. Hanson
Ethel C. Hanson, 99, of Eden Prairie, formerly of Twig, passed away peacefully on Friday, February 12, 2O21, at Redeemer Health Center.
She was born July 13, 1921 in Duluth to Agda and Victor Nelson. She was a 1939 graduate of Cotton High School. She married Earl R. Hanson on September 27,1941, in Melrude. Ethel was a homemaker that took great pride in raising her children and supporting her husband's various activities. Ethel was on active member of Bethlehem Lutheran Church in Twig, Minnesota. She enjoyed playing cards, bowling, spending time in Florida for many winters, camping in the summers with her family. She especially loved Cross Lake and made memories there with Earl, her kids and grandkids. Ethel was loved by many family members and friends for her love of life.
Left to cherish her memory are: a son, Scott (Bunny) Hanson; a daughter, Kathi Evenson; grandchildren: Lisa (Eric) Langlee, Keith (Beth) Hanson, Ross (Amity Tribby) Evenson, Abby (Mike Wolfe Jr) Evenson; and 6 great-grandchildren. Ethel was preceded in death by her husband, Earl; parents; and siblings Bert, Elmer, Audrey and Eloise.
A graveside burial service will be held at a later date at Bethlehem Church cemetery in Twig, Minnesota.