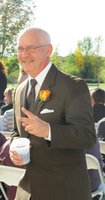 Steven Earl Easler
Steven Earl Easler passed away unexpectedly at Mercy Hospital with his son by his side on February 09th, 2021 at the age of 58. Steve was an amazing, fun, life loving man. He had a love for motocross which turned into a family sport, he had a passion for riding motorcycle how he "loved the smell of victory". He lived a pretty great, care free, relaxed kind of life. Those who were lucky enough to meet him always had a story to tell about him. He was a wonderful loving son, brother, Father, and grandfather and will be greatly missed by all.
He is proceeded in death by his Father Gary Easler. Survived by his Mother Bernice Easler, Sister, Cathy (Trish) Son, James (Rachel) Daughter, Alaira (Jordan) and Grandchildren Brooklynn (12) Raydon(7).
Service will be held at Shepard-Grove Lutheran Church at 11875 W Eagle Lake Drive Maple Grove, MN on Saturday February 27th at 12pm. Visitation 1 hour prior to service.