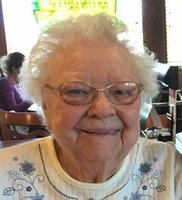 R. Marie Webster
R. Marie Webster, age 98, of Golden Valley, MN, died Thursday, February 4, 2021 at Covenant Hospice Covid Care. Marie was preceeded in death by her husband of 50 years, Rev. Paul J. Webster; daughter, Judy Webster; sister, Dorothy Borner Holt; and many friends along the way.
Survived by son, Tom (Pat) Webster; grandchildren, Anne (Dan) Black, Andrew (Anita) Webster; Great Grandchildren, Kevin Black, Kate Black, and Elijah Webster; Nephews. Bob Borner, Bill Borner, Sherri Borner Johnson; Sister-in-law, Elizabeth Fauver; and Paul Webster's nieces and nephews.
Marie was born April 26, 1922, in Rockford, IL to Ford and Mabel Bergstrom. Marie and Paul graduated North Central Bible Institute, Minneapolis. They married April 10th, 1943 at First Covenant Church, Rockford, IL. They served churches in Labolt and Stockhom, SD, Ellsworth, WI, Lewis Lake, MN, Crookston, MN, Ceresco, NE, Virginia, MN, Warren, PA, Lake Union Church in South Haven, MN. They finished their work together at Minnehaha Academy, St Paul, MN.
Marie graciously served as homemaker and Covenant Pastor's wife for 48 years. Paul and Marie sang duets, the family sang as a quartet, the sisters and their mother sang as a trio. Marie created handiworks of crewel embroidery, and quilts for her grandchildren. Marie's home was decorated in blue, with red accents to honor Paul. Marie baked many dozens of Christmas cookies. Marie was a welcoming hostess and wondering cook. Covenant Church leaders and missionaries were guest in their parsonage home.
In 1992, Paul and Marie entered Covenant Manor, Golden Valley, MN. Paul died after six months. Marie lived through eleven months of social restrictions due to Covid. Marie has lived 28 years at Covenant Living. Marie joins family and friends in Heaven where Jesus greets her.