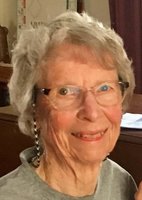 Nancy Tripp Wilson
Nancy Tripp Wilson, long-time resident of Stillwater, Minnesota, died peacefully on Sunday, January 31st.
Nancy is survived by her loving husband of sixty-three years, Viktor O. Wilson, her five children, seven grandchildren, three great-grandchildren, and countless friends from many walks of life.
Nancy received her Bachelor's Degree from Macalester College with a double major in Sociology and Psychology, and her Master's Degree in Library Science from the University of Minnesota. Her career path was varied, with stints as a social worker, newspaper reporter/writer, public and school librarian. She was a life-long learner, with additional courses from a number of institutions and also a qualification in teaching English as a Second Language (ESL).
Nancy and Vik opened their hearts and their home to many foster children through the years. Sponsorship of a Mexican child was also an important contribution to improving lives one person at a time. Nancy's commitment to social justice was action-oriented as well as conceptual – she practiced what she preached.
Nancy was an active and enthusiastic member and past president of the St. Croix Valley chapter of AAUW. AAUW Gourmet Club was a highlight for Vik and Nancy. She belonged to three book clubs, all on varied topics and with different groups of participants. The Smart Ladies Coffee Group was a favorite group of friends for Nancy, and she seldom missed the Wednesday morning gatherings, unless she was travelling. A card club formed in the 1960s was a nucleus of friends who are still part of the active group sharing personal connections and fun activities with Vik and Nancy. Some will also remember the CaCaHiBiSnorSki and Eating Club, formed by enthusiasts of camping, canoeing, hiking, biking, snorkeling and Nordic skiing (and eating of course).
Nancy's love of travel intersected with her peerless organizing skills and her wide social network. She and Viktor travelled to join a biannual bicycling trip for twenty friends through a number of European destinations, including Spain, France, England, Croatia and Germany. Nancy organized several of these adventures. Other travel destinations for Nancy and Vik included Alaska, Malaysia, Australia, the US and British Virgin Islands, Cuba and frequent winter months of residence in Ajijic, Guadalajara, Mexico.
Nancy was a long-time member of Servas, an organization providing opportunities for personal connections among people of diverse cultures toward the goal of promoting world peace, goodwill and understanding. She served for several years as an officer of the US branch of the organization.
Nancy was proud to be actively playing tennis past her 80th birthday. Biking was another passion; Nancy is co-author of Biking With the Wind, a guide to bicycling day trips in Minnesota and Wisconsin.
No immediate formal service will be held for Nancy; a celebration of her life is planned for summer 2021. If a remembrance is desired, Vik asks for donations to Stillwater Friends of the Library in lieu of flowers.