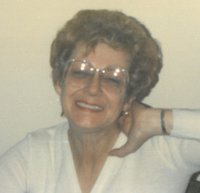 Donna Mae Stellmach
Donna Mae Stellmach, 83, of Little Falls, formally of Morrill, MN, passed away at her home on Tuesday, January 19, 2021.
Donna was born August 6, 1937 to Louis P. Tetiva and Margaret (Kugler) Tetiva, in Buckman Township.
Memorial Mass will be held at 10am on Saturday, February 6, 2021 at St Mary's Church in Little Falls, MN. Officiating the Mass will be Father Mark Botzet with a visitation starting at 9am.
She is preceded in death by her parents, Louis and Margaret Tetiva, Sister, Constance Tetiva, Sons, Gary and Baby Joseph, Son-in-law, Daniel Demarais, Long-time Companion, Ronnie Wuellner, and Husbands, Norman Ritzko and Alex Stellmach.
Left to cherish her memory are her Children, Debra (Bill) Moeller, Randa Demarais, Sandra (Bob) Schmid, Larry Stellmach, Terry Stellmach and Cheryl Stellmach, 6 Grandchildren, Lee, Alissa, Matt, Chad, Tara and Rachael, 11 Great-Grandchildren, Cheyenne, Leesa, Heather, Treston, Angela, Ashley, Austin, Anna, Julia, Sylvia and Trevon, 3 Great-Great Grandchildren, Mae Lee, Blakley and Jaxson.
Private family Interment will be at the St Joseph's Parrish Cemetery in Morrill, Minnesota.