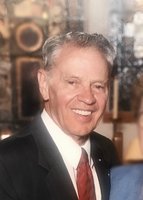 Kenneth Carl Seehus
Kenneth Carl Seehus, 93, of Duluth took his last walk and went home to his Lord and Savior on Saturday, January 18, 2021.
Ken was born in Duluth on March 20, 1927, to Carl and Walborg (Anderson) Seehus, a family of strong Christian faith and values. He attended Denfeld High School and after his service in the U.S. Navy, he married the love of his life, Bernice (Nelson) Seehus, on July 29, 1950. Together they raised their five children in their West Duluth home of 64 years.
Ken was a devoted family man and a mentor to many as a long-time Cub Scout and Boy Scout Leader, even after his own children were out of Scouts. He retired in 1989 after 36 years with MN Power and spent the next 32 years satisfying his curiosity about the world. Ken loved the great outdoors, reading, singing (poorly) and a good joke. If you couldn't find him, he was likely tinkering in the garage or walking his beloved dogs. He gave his time and talents to help countless friends and family, and he worked to improve his community with his service to many organizations including the Salem Covenant Church, the West Duluth Business Club, Kiwanis and the Gideons. Ken had a zest for life, and he lit up a room with his positive attitude and his desire to befriend people. He lived his faith, often bringing home for dinner a struggling pilgrim or homeless person he'd met on his frequent walks.
Most importantly, Ken loved the Lord and continually expressed his gratitude for life and for God's blessings and gifts.
Ken was preceded in death by his wife of 68 years, Bernice, his parents, three sisters, and a brother, as well as his great-grandsons Brenden Seehus and Tristan Seehus. He will be profoundly missed by his four sons, Keith (Carolyn), Don (Carol Blanton), David (Penny), and Andy (Jane) and his daughter, Leanne Stauduhar, as well as ten grandchildren, seventeen great-grandchildren, one great, great grandchild and his nieces, nephews and many friends.
Because of the COVID-19 pandemic, a service for immediate family only will be held at 11 am, Tuesday, January 26, 2021, at Salem Covenant Church, 339 North 59th Avenue West, Duluth, with interment at Oneota Cemetery. A joyous and public celebration of Ken's life is planned for later this year. The family extends their deepest gratitude and respect to the Essentia Hospice Team who enabled us to care for Dad at home and be by his side to his last breath. Please leave a memory of Ken or words of support for the family on the Tribute Wall at www.cremationsocietyofmn.com.