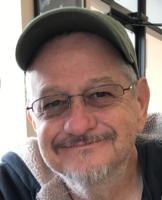 Roger Dale Carnes
Roger Dale Carnes, 62, of Vadnais Heights, MN passed away Sunday, January 17th 2021 at M Health Fairview University of Minnesota Medical Center as the result of complications from a cardiac arrest.
Roger was born August 7th, 1958 in Lancaster, Pennsylvania, the son of Everette and Edith (Sheetz) Carnes. He grew up in Ephrata, Pennsylvania, which had the best food in the world, according to Roger.
Roger became a father when daughters Melissa Sue and Michelle Lee Carnes were born in Ephrata in 1976. While he would have liked to stay with the young family, circumstances at the time did not allow him to remain in Ephrata and he left Pennsylvania at an early age. Roger would go on to have many adventures, including hitch-hiking coast to coast. His travels lead him to CA, OK, FL, TX, and everywhere in between. Roger eventually stopped in Minnesota, which he dubbed the "frozen tundra," in order to be closer to family and friends. While in Minnesota, he went to school in Brainerd and worked as a carpenter and handyman at Big Island Veterans' Camp on Lake Minnetonka. Roger suffered burns while working at the Camp and took on a new position with 10,000 Auto Parts in Minneapolis. Roger became a father again when Lucas Scheelk was born, however, circumstances did not allow Roger to be the father he would have wanted to be at that time.
Roger met Pamela R. Olson in 1987 at a 10,000 Auto Parts store in south Minneapolis, where he helped Pam install a headlight in exchange for directions as he was in an unfamiliar area. Roger and Pam married August 20th, 1989 at Oscar Lake Lutheran Church outside of Alexandria, MN and were blessed with a child, Alex Tyler Carnes, in 1991. Roger took time off work to be home with Alex during the first 4 years of his life, eventually taking on a new role in commercial truck driving after Alex was older. He was so highly regarded for his skilled driving; contractors would request him by name for special projects such as Target Plaza South in downtown Minneapolis. In 1999, Roger, Pam, and Alex moved out of the Twin Cities to a small hobby farm outside of Princeton, MN. Roger took advantage of the land they now owned to establish his own excavation venture, "The Dirtguy" and created a beautiful pond on the property, named "Pamela's Pond." He proudly ended his commercial driving career with a spotless record. Roger and Pam eventually moved back to the Twin Cities area after Alex graduated from high school.
Roger treasured time with his family, riding bicycles and motorcycles, exploring warmer climates, playing video games with his son Alex, and writing. Roger never passed up time to be with those close to him and always had something on the grill for visiting friends or family. He kept up with current events and wrote about them often, adding his own experiences and wisdom. He always had a quip regarding funny product names he'd find, saying they were his "wrestling name." He also told tall tales to entertain young children (or anybody nearby), including "recalling his vast history" of participating in major historical events from years past.
Roger will be remembered as a loving father and husband.
He is survived by wife, Pamela Olson; children, Alex Carnes, Lucas Scheelk, Melissa and Michelle Carnes, and Jesse Borders; siblings, Ronnie (Jody) Carnes, Randy Carnes, and Jean Carnes; mother-in-law, Audrey Olson; sisters-in-law, Patty (Steve) Olson and Patti Olson; many nieces and nephews; and by numerous relatives and friends.
Roger was preceded in death by his mother, Edith and his father, Everette.
In Roger's words: "One thing's for sure. I know the ending of my story…everyone's story ends the same. I just wish the journey wasn't so challenging."
A Celebration of Life will be held at a later date.
Please send memorials to:
Pam Olson
4199 Bridgewood Terrace
Vadnais Heights, MN 55127
A selection of Roger's blog writings can be viewed at:
https://docs.google.com/document/d/1AQPoPb9ah1svmhJnwRg7addmG3TuVJogG7vEqUQmQ70/edit?usp=sharing