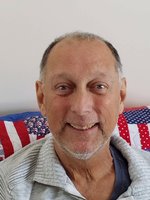 Michael W Stanchfield
Michael W. Stanchfield
Passed away peacefully on October 10th, 2020 at home in the presence of his wife, Becky and his son, Cory.
Mike served 2 years in the Navy, followed by 21 years in the Navy and Army Reserves. He retired as a MSG in the USAR. He also worked for the State of MN for over 20 years.
He was an active member at St. James Lutheran Church, loved golfing, traveling with Becky, volunteering, and spending time at Lake Miltona. His family and friends were always important to him.
He was preceded in death by his father, Dick Stanchfield.
He is survived by his wife, Becky; son, Cory; mother, Ruth; brothers, Steve, Rich (Deb), Bruce; nieces, nephews, and great-grand nieces and nephews.
A celebration of his life will be held sometime in the future for family and friends.