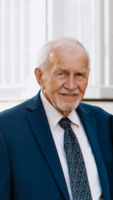 James Edwin "Jim" Sandford
Sandford, James (Jim) Edwin 81 passed peacefully, surrounded by loved ones on October 8th 2020 in Brooklyn Park MN. Jim was born November 5th 1938 in Minneapolis MN to Walter and Myrtle Sandford. Preceded in death by parents, mother in law Rita Johnson, son in law Dane Roehl, and grandson Derek. Siblings, Bill, Mike, Jean, Joan, Marlene and Kathy. Survived by wife Barb, children Rhonda, Bob, Jan Roehl, Joe, Nancy (Jim) Loreno, Ed (Kris), Jenny and Katie. Sixteen grandchildren and 9 great-grandchildren. Siblings, Frank, Ray, Marilyn Sveum and Cheryl McCormick. Beloved dog Charlie.
Jim was a carpenter by trade, and wore many hats. He was always willing to help when needed and just a phone call away. He loved spending time with family, whether it be attending car shows, watching sports or simply hanging out with good conversation. He was always there to listen and would give his time and advice to anybody that needed it. He was a friend to all that knew him. He will never be forgotten and will forever be in our hearts. We love you.
Funeral service to be held Tuesday October 20th at 11am at Grace Fellowship Church. 8601 101st Ave N Brooklyn Park, MN 55445. Visitation will be Monday October 19th from 5-9pm at the church and also 1 hour prior to the service. Please beward of construction and detours near the church.