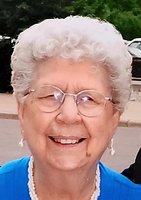 Lillian Harriet Hague
Lillian Harriet Hague
1923 – 2020
Lillian went to rest with the Lord on October 4th, 2020, born in Chicago on 10-19-23. She passed away at home with family members gathered around, giving her love and support.
Lillian is survived by daughter Karen (Seehafer) and son Keith Hague and 16 grandchildren, 34 great grandchildren and 5 great-great grandchildren.
She was preceded in death by her husband; Donald Edward Hague, daughters Kathy (Gavert) and Donna (Westervelt), son Donald L. Hague and granddaughter Kelly (Mildon).
We have been very blessed to have such a wonderful and loving Mother and Grandmother. During her 96 years of life she has shown endless love to her family and friends. Her favorite hobby was making flower arrangements for the elderly and distributing them in nursing homes.
A private memorial ceremony will be held at a later date for the family.