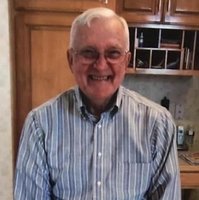 Donald E Pelletier Jr.
Donald E. Pelletier Jr.
Devoted partner, brother, father, grandfather, great grandfather, uncle, great uncle and friend passed away peacefully on October 3, 2020 at the age of 81. Preceded in death by his parentsLuella Pelletier and Donald Pelletier Sr. and brother, Dennis Pelletier. Survived by life partner Jan Rahbain; brother Jerry (Pam); children Dan (Juli), Randy (Nancy), Rick (Drea), Rob (Julie), Tesa (Paul), Jason, Scott (Erin) and Chris (Sarah); grandchildren Vanessa (Kris), Nicole (Ian), Rachel, Karen, Joe (Ally), Steven, Nikita, Nina, Maria, Bella, Emily, Louie, Becca, Lorenzo and Alex; great granddaughter Jacaranda; nephews Jon (LeAnn) and Justin (Erin); niece Andrea; great nephews Nick and Caiden; great niece Natalie.
After retiring from a successful business career that included owning several businesses and rising to the level of Vice President of Alliant Techsystems, he enjoyed doing woodworking projects in his shop, fishing, watching sports, but most of all spending time with Jan, his family and Jan's family. For many years he hand-made Christmas gifts in his shop for all of the family members, a process that usually started in June.These gifts will be treasured forever and will keep his memory present in our lives every day.
Service of remembrance 11:00 AM, Thursday, October 22, 2020, Hosanna Church – Lakeville, 9600 163rd Street West, Lakeville. The family will greet guests for one hour before the service, starting at 10:00 AM. Due to COVID-19 restrictions, facemasks will be required to be worn inside the church and there will be no gathering after the service.
Memorials preferred to St. Jude Children's Research Hospital, 5353 Wayzata Blvd., Suite 500, St. Louis Park, MN, 55416.