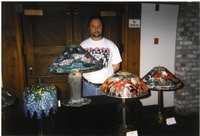 Douglas K Ebert
Douglas K Ebert
Age 63 of MPLS. Passed away September 30, 2020. Survived by mother, Delphie; brother, Richard (Nancy); nephew, Richard (Sydney); great nieces, Emily and Morgan.
Doug attended Hopkins High School completing his GED in 2012.
Doug was an accomplished stained glass artist, being a long time member of the Tiffany Lamp Club.
Doug enjoyed being in nature and was an avid hunter, fisherman, and boater. He was particularly fond of his time near Akeley, MN.
Due to Covid, a Celebration of Life will occur at a later date.