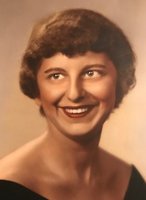 Beverly Jean Welch
Beverly Jean Wakeen Welch
Died on September 28, 2020 at 86 years of age in hospice care at Arbor Lakes Senior Living, Maple Grove, MN. She was born July 4, 1934 to parents Samuel and Emma (Abraham) Wakeen of La Crosse, Wisconsin. She was married to Richard Welch (1958-1974). Most recently she resided at Woodland Mounds, Maple Grove, where she loved spending time with her family and friends. She will be dearly missed.
Beverly is survived by her sister, Mary (Vern Messersmith); children, Joan (Bob Haniwalt), Jim (Janet), and Teresa (Tim Wrobbel); grandchildren, Anson Haniwalt, Steve Welch, Erin (Brandon) Backer, Sam Welch, Jake (Kate) Wrobbel and Kori Wrobbel; great grandsons, Wyatt and Brody (Jake and Kate); nephews, Sam, Mike, Dave and Tom Van Riper and families, and Andy Messersmith. She was preceded in death by her sister, Joanne Van Riper.
In her memory, please sing, dance, eat dessert first, and never do what you're told.