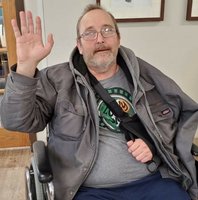 Timothy Sean L'Allier
Timothy Sean L'Allier
8-28-1965 – 9-17-2020
After a long and brave battle with cancer, Timothy Sean L'Allier gained his wings on September 17, 2020 surrounded by his loved ones at the age of 55 years young. He leaves behind his children Chris (Valeen), Josh (Brittney), Alyssa, Karese (Dylan) and Kenton; Grandchildren Jason, Aubree, Jameson, Vylett and Jaxson; Father, Michael and sisters, Michelle (Leonard), Loni (Terrell) and Lisa (Steve) as well as many friends and family. Preceded in death by his Mother, Mary, granddaughter, Hailey and brother, Billy.
He was a jack of all trades, but his specialty was commercial painting. He enjoyed teaching and giving tips to those who sought his knowledge. He was a confidant to many with his open ears, open heart and words of wisdom. He was always there to brighten the lives of those around him. His family was the drive that pushed him to keep going in his courageous five-year cancer battle. He was a surrogate father to many. His gift in life was being available to anyone who needed him.
Dad/Grandpa will be missed but never forgotten. All your words of wisdom and advice will carry us through this time without you. "There is a lot to be said about peace and quiet" a perfect example of your words of wisdom. Fly high Dad/Grandpa.
**Special thanks to Chelle and Earl for their care and support during his battle.
Celebration of Life Friday October 9, 2020 at 6:00pm with visitation 4:00pm-6:00pm at Cremation Society of MN, 1979 Old Hudson Rd., St. Paul, MN 55119 (651)789-0404
In lieu of flowers memorials preferred.