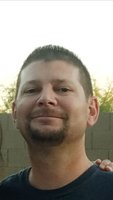 Brian A Grulke
It is with deep sorrow and much love that we mourn the passing of Brian Grulke, 43 of Chaska, Minnesota on August, 14th, 2020.

Brian is survived by two sons, Adam Kriessman and Ethan Kriessman; brothers Paul Grulke, Jon Hernandez, Sonny Ozuna, and Gilbert Ozuna; sisters Nicole Grulke, Sara Grulke, and Roxana Kenyon, Karina Kriessman; as well as numerous relatives and good friends.
Born to Crystal Hernandez and Charles Kriessman in Eau Claire, Wisconsin, Brian loved spending time with family, fishing, and carpentry. As a teenager, Brian enjoyed skateboarding, photography, and graduated with high school honors. He was currently working towards a degree in computer programming. Private family services.