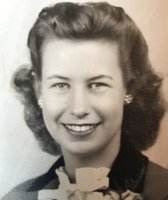 Virginia (Strand) Luger
Our mother, Ginny, passed away peacefully in Minneapolis on July 25, at the age of 95. She was born in Aberdeen, South Dakota on March 2, 1925. After high school she moved to Minnesota to attend Macalester College, where she met and married Clarence Strand. They were married 25 Years.
In 1970 Ginny married her beloved Ren Luger, with whom she shared 43 happy years of travel, sail-boating and enjoying their children and grandchildren. Ren passed away in 2012.
Ginny was a dynamic, vivacious women who lived a rich life as an artist. She studied at the Minnesota College of Art and Design and with numerous artists and other art schools around the country. She was an active Docent for the Minneapolis Institute of Arts, enjoyed theatre and the Minnesota Orchestra. She traveled the world extensively, sailed the Atlantic, boated in Minnesota and Florida, and proudly earned her pilot's license. Ginny was an avid lover of animals and cherished her "furry" buddies. She never stopped being curious and continuously delved into learning new subjects. She enjoyed sharing her passions with her children and grandchildren.
Ginny is survived by her three children and their spouses: Ron Strand (Bonnie Strand), Terry Skottegaard (Mike Hooven), Niki Gellhaus (Rick Viovannetone), and her grandchildren: Kim Aaron, Laura Skottegaard, Eric Strand (Kimberly Hyde-Strand), Marc Backowski (Pam Backowski), Julie Skottegaard, and Mike Strand. Also, by her great grandchildren: Andrew Hyde-Strand, Allie Hyde-Strand, Nick Backowski, Blake Backowski and Luke Backowski.
Her marriage to Ren happily gave her four bonus children: Tim Luger, Debbie Mousel, Susan Parish, Pam Edge, as well as all of their spouses, children and grandchildren.
Ginny often expressed in her later years how grateful she was to have lived such a full and rich life.
Reflecting her love of flying, she asked to share this poem written as an elegy for WWII Women's Air-force Service Pilots (WASP) by pilot Elizabeth MacKethan Magid:
CELESTIAL FLLIGHT
She is not dead
but only flying higher, higher than she's flown before
and early imitations
Will hinder her no more.
There is no service ceiling,
Or any fuel range
And there is no anoxia,
Or need for engine change.
Thank all that's good her flight can be
To heights her eyes had scanned,
Where she can race with comets,
And buzz the rainbow's span.
For she is universal
Like courage, love and hope
And all free, sweet emotions
Of vast and feisty scope.
And understand a pilot's Fate is not the thing she fears
But rather sadness left behind,
Your heartbreak and your tears.
So, all you loved ones, dry your eyes,
Yes, it is wrong that you should grieve
For she would love your courage more,
And she would want you to believe
She is not dead.
For you should have known
That she is flying higher,
Higher than she's ever flown.