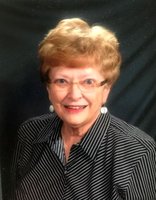 Sandra Ilene Fogelson
Sandra Ilene Fogelson passed away July 18th at the Emeralds Nursing home in Faribault at the age of 82.
On February 28th 1938 she was born to Simon and Ingabor Nesseth. On June 8th 1956 she married Harold Fogelson and they had 3 children over the next seven years; Craig, Jay, and Julie. Sandra helped out with the farm while raising their children and later worked part time in Kenyon at Kenyon Farm and Home and Bergh Drug.
Sandra is survived by her husband, Harold Fogelson; son, Jay (Susan) Fogelson of Kenyon; daughter, Julie (Gene) Burow-Hanson of Wanamingo; five grandchildren, Jill Fogelson, Lindsey Feist, Britney Meyers, Amanda Dorschner, Mitchel Burow; and seven great grandchildren.
She is preceded in death by her parents; oldest son, Craig Fogelson; and four siblings, Orester Nesseth, Ingram Nesseth, Joan Flom, and Donna Musgjerd.
A private family service will be held at her home on Sunday July 26th with Pastor Paul Graham officiating.