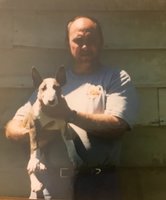 Gordon Timothy "Gordy" Bane
Gordon (Gordy) Timothy Bane passed away on June 21, 2020, of Parkinson's Disease at the age of 64. He was a resident of Champlin Shores in Champlin, Minnesota.
Born August 14, 1955, in Minneapolis, Minnesota, he was the loving son of C. Gordon and Florence Mary (West) Bane.
Gordy was a 1973 graduate of Richfield High School. He graduated with a degree in accounting from University of Minnesota's Carlson School or Management. After a career as a CPA Gordy started a second career as a farmer in Glenwood, MN.
In his youth Gordy participated in many sport including football and boxing. He liked being outdoors especially cross country skiing and hunting.
Over the years he developed an interest in training and showing dogs. He and Ginger competed in many shows earning designations of UDX2 and OM1.
Gordy is preceded in death by his parents, his brother Pat, and his dogs Popeye, Tad, Ranger, and CH Edelwin's Happy To See You (aka Ginger). Survived by his siblings Mike (Laurie), Dan (Patti), Julie (Carter Staaf), and Tammy, plus many nieces and nephews.
Celebration of Life Friday, July 17, 11-2 at Cremation Society of Minnesota, 7110 France Ave, Edina.