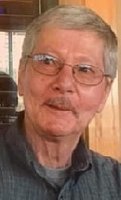 James Ward "Jim" Macheel
James "Jim" Ward Macheel, age 71, Pillager, MN died Monday, June 15, 2020 at Lakewood Care Center in Staples, MN.
Jim was born August 29, 1948 in Brainerd, MN, the son of Alvin and Georgina Macheel. He grew up and attended school in Motley, MN.
After school he joined the US Army serving in the Vietnam War. He received the Bronze Star for his service.
He later moved to the Minneapolis area and worked for Technical Tool and Die for 35 years. After his retirement from Technical Tool and Die, Jim and his brother, Dennis owned and operated the Zephyr Supper Club in Audubon, MN.
He later returned to Pilligar, MN. Jim enjoyed watching the Minnesota Vikings and Twins, classic cars, especially his 1964 Chevy Impala SS, golfing, darts, and pinball.
Jim is survived by his daughter, Nicole (Robby) Sahr; grandchildren, Brady (Kari), Tyler, and Morgan Sahr; sisters, Frances (William) Kokett, Pauline (Robert) Dukowitz and brother, Dennis (Cindy) Macheel; sister-in-law, Marie Macheel; special friend, Cheryl Banta; and several nieces, nephews, and cousins.
He was preceded in death by his parents and brother, Ian Macheel.
Service will be held at a later date at Minnesota State Veterans Cemetery-Little Falls.