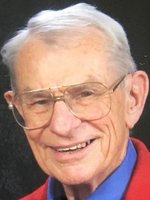 Russell David Tillotson
The Reverend Russell David Tillotson, 93, died April 28, 2020 at Lakeview Hospital in Two Harbors, MN, his son Matt holding his hand.
Born on November 26, 1926 in Syracuse NY to Robert Tillotson and Ruth Tooker Tillotson, Russ was the fourth of five children. After losing their mother during the Depression, Russ and his siblings spent six years in the local orphanage, finally returning home when their father remarried.
Reverend Tillotson graduated from Ebenezer High School in Ebenezer Township, NY, Wooster College in Wooster, OH and San Francisco Theological Seminary in San Anselmo, CA. He also studied in the Doctoral program at McKormick Theological Seminary in Chicago, IL and later attended Clown School with his third wife Sylvia. His children were not surprised by this last.
As a young man Reverend Tillotson worked as a machinist, a bus driver and a salesman. He sailed as a "Seagoing Cowboy" on the USS Mexico, a merchant marine vessel out of Baltimore, ferrying horses, mules and cattle to post war Europe. After college Russ enlisted in the U.S. Army and served in Counter Intelligence at the German Czech border.
Ordained by the Presbyterian Church of America, Reverend Tillotson was called to the Lawrence and Western congregations in Grant County, MN, the First Presbyterian Church of Redwing, MN and the Amberg, Crivitz and Pembine churches of NE Wisconsin.
Fluent in French, conversational in German and with a reading knowledge of Hebrew, Greek and Latin, Reverend Tillotson was a compendium of corny jokes, bad puns and the western history of Louis Lamour.
Reverend Tillotson enjoyed baptisms, weddings and the theology undergirding the cartoons of Charles Schultz (Peanuts) and Walt Kelly (Pogo). Over his forty five year career he became the go to Officiate for creative or desperate couples of many faiths. He performed weddings on lakeside, riverside and mountain side, in backyards, barnyards, bluff tops and in at least one case, on a pontoon boat.
Russ married Barbara Brocket in 1954 and for thirty three years she leant support and guidance, from college through Europe and seminary and from church to church. Together they raised eight children, Michael, Katheleen, Russell Jr., Margaret, Andrew, Benjamin, Rebecca and Matthew. Later in life, after Barbara's death, Russ expanded his family marrying Rose Johnson and Sylvia Huning, each of whom pre-deceased him.
He is survived by seven of his children: Mike (Vivian), Kate (Barry), Russ Jr. (Linda), Molly, (Inez), Ben, Becky (Mark), and Matt (Deb), four grandchildren: Steven (Allison), Meagan (Jason), Sonja and Christopher, and four great grandchildren, as well as the son and daughter of his lifelong friends, Knox and Carrie Seaton, Nancy Milan and David Seaton.
Russ formed close relationships with his second and third wives' families. Accordingly, he is survived by Patti Finney and Barry Johnson, Ellie Lee, Barb Huning, Wendy Magnaghi and eight step-grandchildren from both families. He is also missed by his loving friend Carol Loken of Duluth.
Truly a man for all seasons, Russ often said that if you're too busy for people, you're just too busy. He lived this motto to the consternation of his wives, children and anyone waiting in the car, theater, restaurant or church. He made time for anyone and everyone; he gave himself with equal respect, care and compassion to both the mighty and the meek. There is no one who knew Reverend Russell Tillotson who is not smiling today remembering him. He celebrated life and we celebrate him.
This is the life the Lord hath made; let us rejoice and be glad in it.
Arrangements are entrusted to Cremation Society of MN, Duluth. cremationsocietymn.com