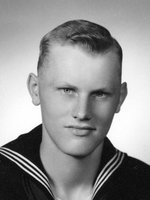 Richard A. Running
Richard A Running, 86, died Monday, April 27th, 2020, at St. Mary's Medical Center.
Rich was born on June 21, 1933, to Campbell and Martha (Heino) Running in Duluth. Rich graduated from East High School and attended UMD. Shortly thereafter he joined the US Navy and served during the Korean War and in the Pacific aboard the USS Boxer CV-21. Upon the fulfillment of his military service he moved to Baltimore, Maryland and worked for Bendix as an assistant draftsman. He later returned to Duluth and began working for the Minnesota Department of Transportation in Duluth, eventually retiring in 1995 in the position of Inventory Control Supervisor after 37 years of service.
Rich was a member of the Duluth Curling Club for over 40 years. Rich was also a member of the Elk's Club, Eagles Club, Veterans of Foreign War (VFW) and American Legion.
Rich was an avid shopper and would always look for the good deals. He enjoyed flea marketing, fishing with his buddies, traveling with his wife, and making people smile through his crazy antics.
Rich is survived by his loving wife of 42 years, Maureen (Sowden) Running, his 5 children, Cynthia (Mark) Thomson, Richard (Kim) Running Jr., Daniel (Amy) Running, Michael Running and Thomas (Tristin) Running, along with 14 grandchildren.
Rich is preceded in death by his parents Campbell and Martha (Heino) Running, his brother Ronald Running, and sisters Nancy Ellena and Carol Running.
A private family service is being held to honor Rich's life.