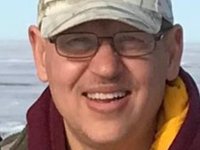 Robert Marnich
Robert Marnich went to be with his Lord and Savior Jesus Christ on March 19, 2020, surrounded by his loving family. Bob was born August 30, 1959, to Joanne and Daniel Marnich. He was a loving and devoted son to them. He graduated from Morgan Park High School. On November 22, 1980 he married Bettie, his best friend and the love of his life. They cherished 39 wonderful years of marriage. Together they raised 3 children, Stefanie, Jennifer, and Dallas, which were his pride and joy. He spent many years coaching their youth hockey and baseball teams, and he loved every minute of it. Bob had 5 beloved grandchildren, Brooklyn, Beau, Brielle, Kiki, and Irelynn. They were the joy of his life, and he loved nothing more than to spend time with them. But he was most happy taking them all to Disney World, where they enjoyed many vacations together as a family. He also loved fishing and hunting with his son and his buddies. In 1984 he got his insurance license, and owned and operated the Marnich Insurance Agency, Insurance Brokers Of MN. He took great pride in this family business, and loved his work and all his clients.
Bob was a friend to all, and would literally give you the shirt off his back. His kindness and sincerity was well known to anyone he encountered
He is survived by his wife Bettie, his children Stefanie (Jeremy) Stewart, Jennifer Dee, and Dallas (Amanda) Marnich, his grandchildren Brooklyn, Beau, and Brielle Stewart, and Kiki and Irelynn Dee. He is also survived by his loving parents Joanne and Daniel Marnich, his brother Jim (Linda) Marnich, his sister's Cathy (Pete) Dobson, and Susan Thompson.
There will be a private family gathering.
A special thanks to Dr. Nikcevich, who provided such excellent care and went above and beyond to ensure we were taken care of in every possible way.