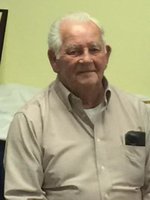 Rodney Gene Haldorson
Rodney Gene Haldorson, age 87, passed away peacefully on March 21, 2020, at Barross Cottages in Two Harbors MN, with his wife of 65 years, Patricia, by his side.
The son of Otto and Petrina Haldorson, Rodney was born on March 3, 1933, in his parents' farmhouse just outside of Fergus Falls MN. He spent his early childhood living and going to school in Elizabeth MN and working on the family farm.
At the age of seventeen, he joined the United States Army and was sent overseas to serve in the Korean War. He left as a young farm boy and returned as a man that never really liked to discuss what he "lived" through or where his boots carried him during his service to our country. (Please take a minute today to thank a Veteran / Service member for their service/sacrifice, as many of us have not walked in those "boots.")
Rodney then returned to Fergus Falls and married Patricia Jansen on Oct. 9th, 1954 in Elizabeth MN. Together they traveled up the North Shore of Lake Superior where they made their home and raised six children in Silver Bay MN. Rodney spent his entire career working for Reserve/Northshore Mining, finally retiring in 1999. He enjoyed his retirement years spending time with his wife and family, particularly the great outdoors camping and fishing. Rodney was a very humble, quiet, genuine, and simple man that enjoyed his family until the end.
Rodney was preceded in death by his parents and brother Jerome. He will be greatly missed by his wife Patricia; his six children, Gene (Judy) Haldorson, Cheryl (Gerald) Luoma, Kimbra (Ed) Eide, Kirk (Wendy) Haldorson, Dwain (CeCe) Haldorson, and Jodi (Mike) Heinzen; Sisters Patty Haldorson & Joyce Berquist and Sister-in-law, Betty Haldorson. Rodney also leaves behind many grandchildren, great grandchildren, and great-great grandchildren.
We would like to thank Hospice for Rodney's excellent comfort care, which was so much appreciated; also, Barross Cottages in Two Harbors MN for their care these past couple of years. The staff became their "extended" family, and as a family, we are so appreciative of your dedication. God Bless you all, and remember to thank a Veteran / Service member in Rodney's memory.
A family celebration of life will be held at a later date. If you would like to send a card to Mom, please address it to: Patricia Haldorson at Barross Cottage 806 13th Ave, Two Harbors MN 55616.