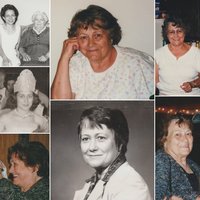 Lillian Mae Elledge
Lillian Mae (Williams) Elledge, age 90, of N. St. Paul, MN, passed away December 16th, 2019. Preceded in death by parents, William Alvin and Margaret Emma Williams, and siblings Ola, Victor, Helen, Thomas, James, Paul, Frances, Roscoe, Georgianna, Jesse, Elbert, Delbert, Stanley, Yvonne, Alma, Roland and Ronald; as well as spouses of siblings, and beloved friends.

Born on 11/1/1929, in Princeton, Indiana, Lillian was #13 of 21 children born to Alvin & Emma. She was immensely proud of her family and enjoyed telling stories and sharing memories of her parents, siblings, the family farm, friends, nieces, nephews, cousins and so much more. She graduated from Mt. Olympus High School of Indiana in 1947 and received a Bachelor's of Science Degree in Elementary Education from Oakland City College of Indiana in 1953. Lillian served as a Special Education/Title I Teacher in St. Paul, MN, and worked at the Lake Owasso, MN Residential home facility as an aide assisting adults with special needs. She enjoyed spending time with her loved ones, attending bible study, and traveling back home many times throughout her life to see many family members and friends.

Lillian is survived by Siblings: M.Alice Hylton, Harold Williams and Betty Saumer(Jim); Children: Kevin Elledge, Noel Elledge Sr.(Crystal) and Heidi Ripley; Grandchildren: Beth Elledge, Nichole Beeman(Bryan), Noel Elledge Jr., and Angela Ripley(Tony Wilcox); and Great-grandchildren: William, Kailey, Koi, Alexander, Noel III, Hannah, Jordan and Allison; all who lovingly called her "Granny". As well as many loving extended family and friends.

A celebration of life is scheduled for Friday, January 3rd, 2020, 10:00am at Redeeming Love Church, 2425 White Bear Ave, Maplewood MN 55109. There will be a luncheon at the church immediately following the service. Private interment.