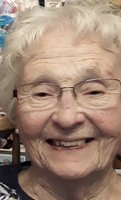 Ione Rose Sanford
Age 94, of Champlin passed away peacefully at home on July 22, 2019. Preceded in death by husbands, Avery Knutson and Walter Sanford; parents, Agnes and Stanley Larson; brothers, Stanley Jr. and Gerald; sister, Joan. Survived by daughter, Linda English; step-children, Rusty, Paul, and Georgia; grandchildren, Mark (Katrina), Katherine (Jevon); seven great-grandchildren; siblings, Shirley, Margaret, Tom, Charlie; three Godchildren and beloved fur babies, Pepper, Winnie, and Freddie and extended family and friends.
Ione loved Jesus, her family and her home. She never said an unkind word about anyone. She had a wonderful relationship with her step-children. Ione worked hard and she played hard. She was an avid cross country and downhill skier, bowler, hiker, jogger, biker, swimmer, gardener, and traveler. Ione never missed the news or the privilege of voting every election. She was a caregiver and cared for her mother-in-law for many years and was kind and generous to a fault. She had a robust sense of humor. She enjoyed going to activities for her daughter, grandchildren, and MN great-grandchildren while praying for and cheering on her CO great-granddaughters. Ione was extremely appreciative of the care given to her near the end of her life and the ability to remain in her home. She will be deeply missed.
A Celebration of Life will be held Monday, August 5th at Prince of Peace Lutheran Church, 7217 W Broadway Ave, Brooklyn Park, MN 55428 with visitation at 10:00AM; service at 11:00AM and luncheon to follow.