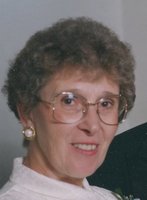 Joan Margaret Joos
Joan Margaret (Buesgens) Joos, age 83, of Hopkins, passed away after a long battle with Alzheimer's on January 31, 2019. She died peacefully at home surrounded by her loving husband and children.
Joan was born in Cologne, Minnesota to John and Lena (Leif) Buesgens on April 5, 1935, the youngest of 9 children and a surprise twin. She attended grade school at St. Bernard's School in Cologne and graduated from Waconia High School in 1953. She graduated with an RN in nursing in 1956 from St. Mary's/St. Catherine's College. In 1960 she married her grade school crush Dickie Joos, and they went on to enjoy 59 years of wedded bliss.

Joan and Dick lived in South Minneapolis for 13 years and in Eagan for 38 years before moving to Hopkins in 2011. Joan worked as a nurse in surgery at St. Mary's/Fairview Hospital for many years and as a home healthcare nurse for Dakota County. She was also involved in several independent businesses. She was a founding member of St. John Neumann Church in Eagan where she was active in various roles for over 20 years, one of her favorites being funeral hospitality. Joan loved spending time with people, hosting parties and visiting friends and family. She was a talented seamstress, decorator and cook. She was a wonderful mother and grandmother, aunt and friend.

Joan was preceded in death by her parents, 3 brothers (Frank, Ralph and Mark), and 5 sisters (Marie, Julia, Ann, Grace and her twin Jean).

Joan is survived by her husband, Richard, 4 children: Teri Joos (Mike Strutton), Judy (Dave) Saumweber, Rick (Karol) Joos and Tim Joos (Patty Oakes) and 7 grandchildren: Nick and Seyha Saumweber, and RJ, Will, Michael, Anna and Ashlynn Joos, and in-laws Elaine Buesgens, Bob and Bernie Joos, and Kitty Hanson.
Mass of Christian Burial will be held at St. John Neumann Church in Eagan on Saturday April 27th at 11 a.m., with visitation one hour prior and lunch following.

Joan's family wishes to extend thanks to The Glenn Hopkins staff, Park Nicollet Hospice, and all the friends and relatives who supported and loved Joan. We will miss her every day.